Giving Tree School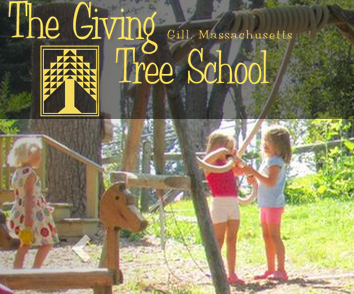 Giving Tree School is a nonprofit educational organization, founded by Betsy Evans and Jeff Coulson, that has been providing programs for young children since 1976. It is a nursery school for children ages 2.9 through 5 years. Children and teachers participate together in a developmental curriculum designed to foster socioemotional, cognitive, and physical growth, as well as respect for individual expression and experience. The day is divided into two sessions, 8:30–11:30 & 1:00–4:00. A limited number of children are enrolled for full days. For an extra charge, families can sign up for early drop off, at 8:00 and/or late pick up, at 5:00.
Children are by nature active learners. They like to touch, feel, explore, and manipulate objects in many ways, and to engage in parallel and cooperative play with others. In order to meet each individual child's developmental needs, children are encouraged and supported in a process of making responsible choices for play, for play is the work of children—it is their way of learning about their world.
Giving Tree School is NAEYC and HighScope accredited, meeting the highest standards for early childhood educational programs. It is located in Gill, MA.
Our Daily Routine is designed so that children begin their day by planning with a teacher what they would like to do. The teacher can help them to extend their ideas in increasingly more complicated ways, while encouraging new skills and posing new challenges. We call this part of our day Planning Time.
After making a plan, children move on to Choice Time, during which they can use all areas of the school: Art Table, Book Corner, Inventions, Block Rug, Science Table, Stage, Playhouse, Tub Table, Sunspace and Toy Space.
After Choice Time children break into small groups. The teachers help children participate in a brief sharing of what happened during Choice Time—by showing something that was made or in some way representing an experience. We call this time Recall Time.
Either Circle or Small Group Time follow Recall. Circle Time is a whole-group time for movement, songs, stories, and plays. Small-Group is a time for exploring and interacting with a common set of materials, with each child participating in their own individual way. Children learn to classify, seriate, and represent as they engage in a variety of pre-reading and pre-math activities.
We then play outdoors on our spacious and adventurous playground. Because of our rural setting, nature exploration is an important part of our curriculum and is emphasized both in and out of the classroom. Our school's rural setting provides safe access to nature trails, streams, and an apple orchard.
Throughout all of the children's activities we emphasize problem-solving and individual questioning, thinking, and creating. The individual needs of each child are central to the curriculum and are supported by the environment, the Daily Routine and the teachers. Our hope is that play will be great fun as well as constructively challenging.
Non-discrimination Policy
Giving Tree School is open to all families. We do not discriminate on the basis of race, religion, culture, political beliefs, marital status, disability, national origin, or sexual orientation.
What makes Giving Tree unique?
Warm, responsive, experienced teachers.
Child-initiated learning—children learn to make decisions and choices within a safe and structured daily routine.
Individual expression and imagination encouraged through stories, art, and music.
Kindergarten readiness supported daily through key experiences in all learning areas
A warm, homelike inside space with lots of activity areas and natural light—a spacious and adventurous natural playground nestled among the trees.
An approach to conflict that encourages social skills and peaceful ways to resolve disputes.
Parent learning in workshops and consultations.
To Contact Giving Tree School:
The Giving Tree School Inc.
3 Wood Ave
Gill, MA 01354
Phone: 413-863-9218
Web Site: GivingTreeSchool.org